Martin Phillips Carpets is now offering more flexible finance options for customers in UK with Paypal Pay in 3 and Paypal Credit.
Spread the cost of your new flooring when choosing to check out with Paypal. You will be given the option to either Pay in 3 or Paypal Credit with 0% interest in 4 months.
How to take advantage of our new Finance options
At checkout, choose to pay with Paypal
Confirm your order. You will need to sign in to your Paypal account
Choose either to Pay in 3 or Paypal Credit
Spread the cost of your order in 3 or more payments
What is Pay in 3
With Pay in 3, you split your purchase valued £30 - £2000 in 3 zero interest payments with no set up fees. The first payment is made on the same day and the other 2 payments the next 2 months on the same date. More information on Pay in 3 is available here and here.
Example:
Claire is looking for new laminate flooring and she choose the Cultra Grey Oak priced £119.88. When she chooses to Pay in 3, she is given the option to pay today, 10th of April, £39.96. The rest of her payments will be made on 10th May, £39.96, and on 10th June, £39.96. Total cost paid: £119.88.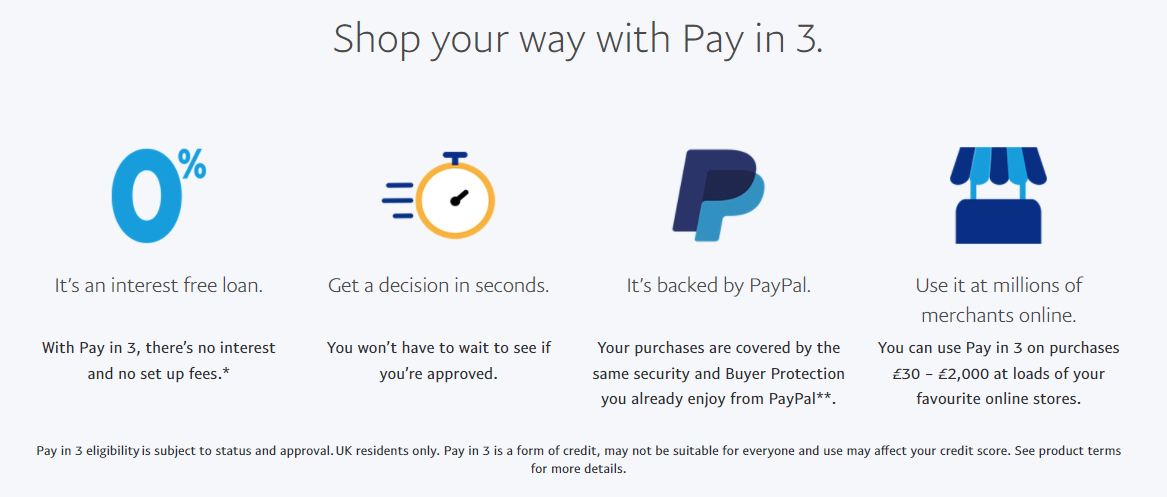 What is Paypal Credit
With Paypal Credit you will get 0% interest rate for 4 months on purchases £99 and more. You will need to complete a short form and you will get an instant decision if you are approved for credit or not. Any remaining balance due after the 4 month period will be charged with interest rate at 21.9% variable. More information on Paypal Credit is available here and here.